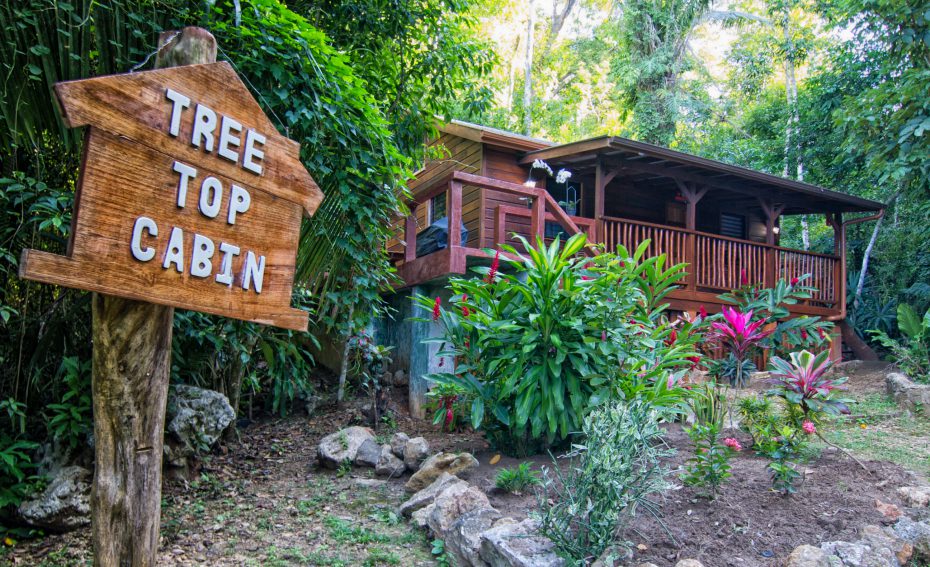 This cozy 3-bedroom Raised Bungalow Belize Vacation Rental is located in a 130-acre magical rainforest community in Western Belize. Located close to the organic community gardens in Better in Belize, this compact cabin is a perfect place to launch your rainforest adventure. This inviting Belize Rental Home is flanked by a full-length deck at the front of the house – a perfect place for outside dining year round. Equipped with solar power, this cabin would be a great getaway retreat or rental vacation home for a couple or family.
Come experience the magic and mystery of a 130-acre rainforest community in Belize!
TREE TOPS 2020/2021 RATES FOR ENTIRE HOME** Based on 1 to 2-person Occupancy

Standard Rate: $75.00* USD per night (maximum of 2 guests)
May 1 to October 31 Nightly Summer Special: $55.00* USD per night (maximum of 2 guests)
TREE TOPS 2020/2021 RATES FOR ENTIRE HOME** Based on 1 to 4-person Occupancy
Standard Rate: $124.00* USD per night (up to maximum of 4 guests)**
Weekly Rate: $750.00* USD (up to maximum of 4 guests)**
Monthly Rate: $1250.00* USD (up to maximum of 4 guests)**
May 1 to October 31 Nightly Summer Special: $99.00* USD per night
May 1 to October 31 Weekly Summer Special: $550.00* USD
Additional Notes and Charges: Cleaning Fee: $95* USD (non-refundable)
Security Deposit: $150 USD (refundable)
* All Rates and Service Charges are subject to a 9% Hotel Tax.
** All above rates are for a maximum of 4 guests. Additional guests will be charged $25* USD per guest per night (Maximum 2 additional guests).
Please note that there are no refunds for cancellations of bookings other than the refundable damage deposit.
If you don't want to wade through our seasonal pricing packages, we'd be delighted to send you a custom quote for your accommodation at Tree Tops Cabin. Simply email us the number of nights you would like to book, the dates of your booking and the number of people in your party.
George – June 2018

This is an off the beaten path very nice cabin. If you want to be in the jungle taking in the natural sounds, this is the place for you. A bit of a hike from the airport but worth the trip. There are local activities jungle splash tour, local cave tours, lookout point that are must does. Stop at the store at the beginning of mollejon for essentials. There is a store closer to home for meats and drinks etc. I will definitely be back. April was very pleasant and I would recommend this place to all outdoor enthusiast novice or expert.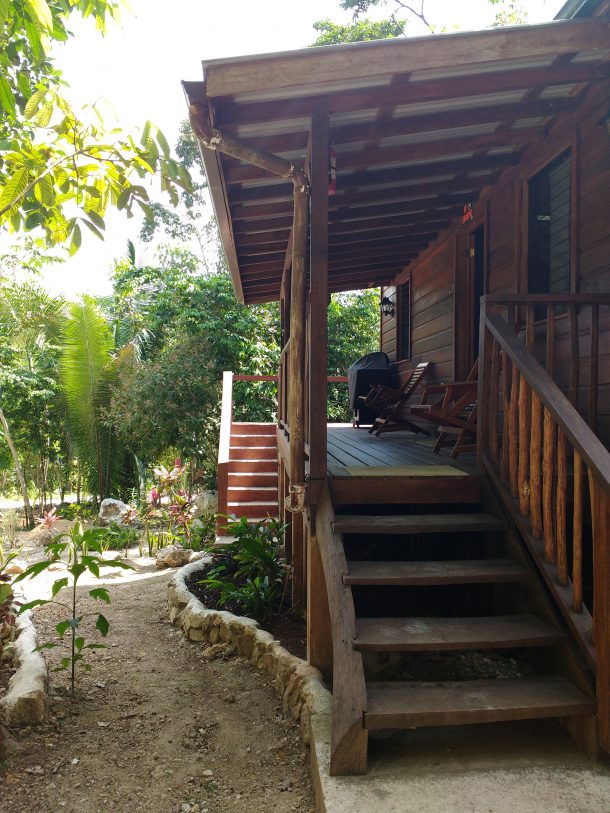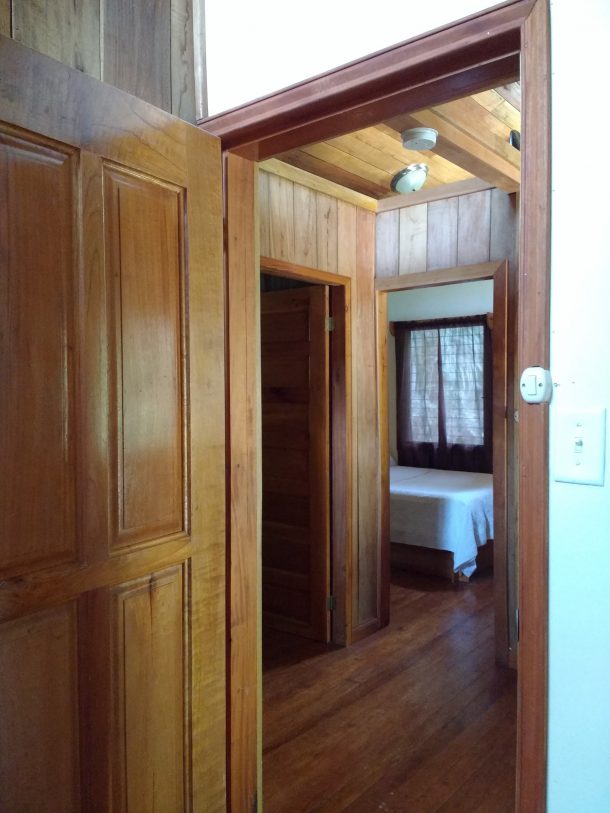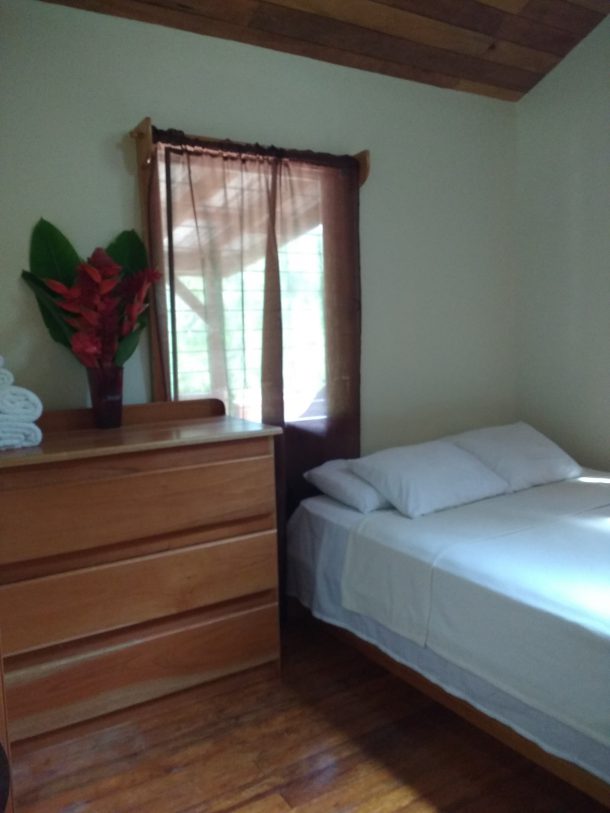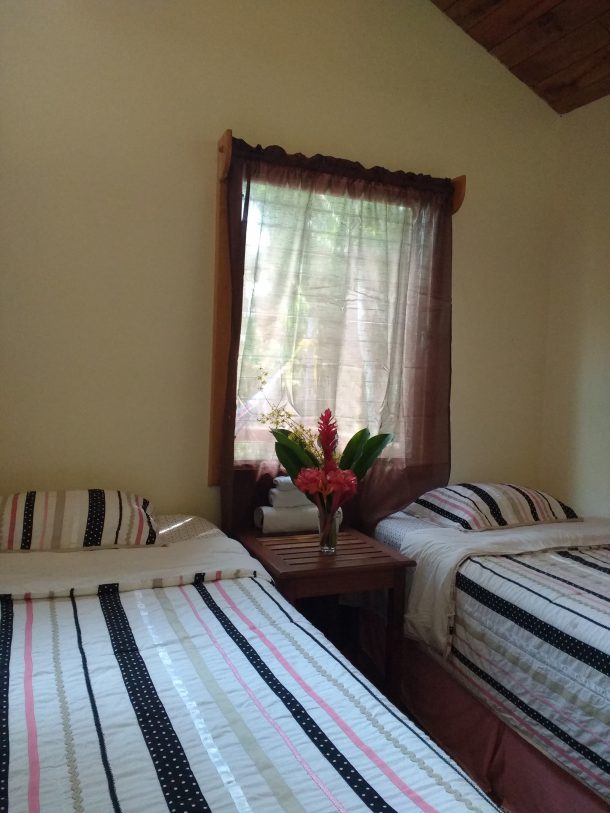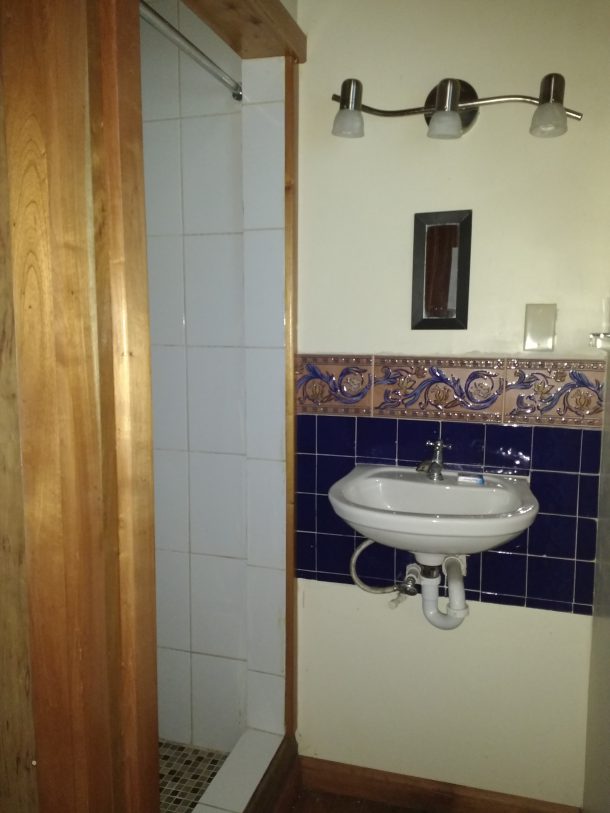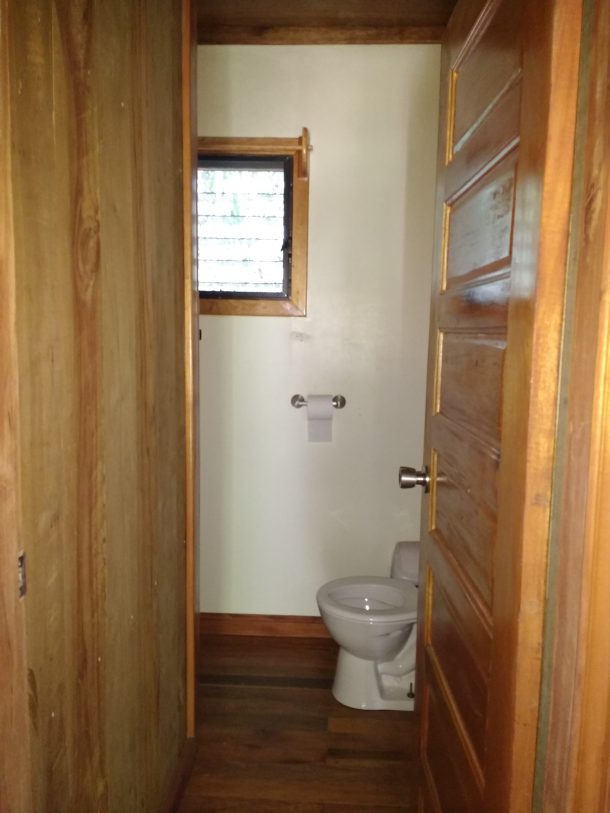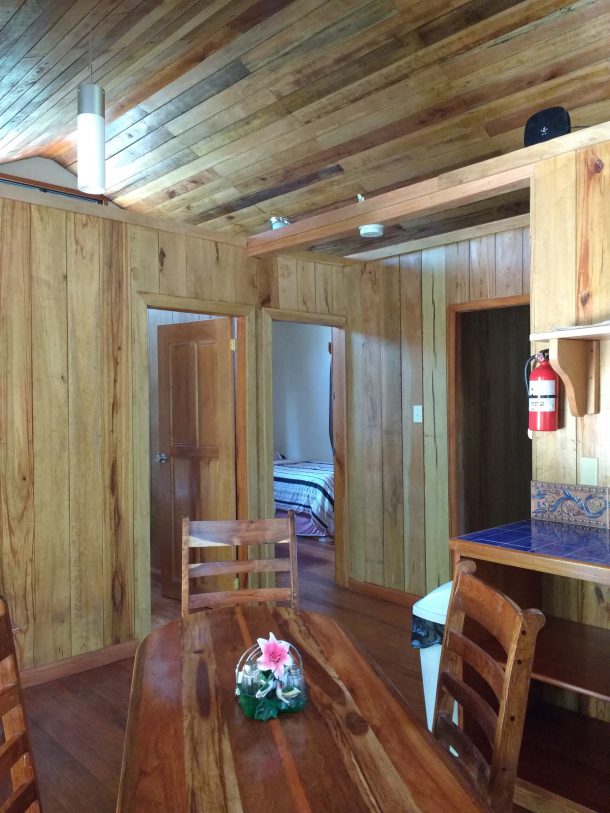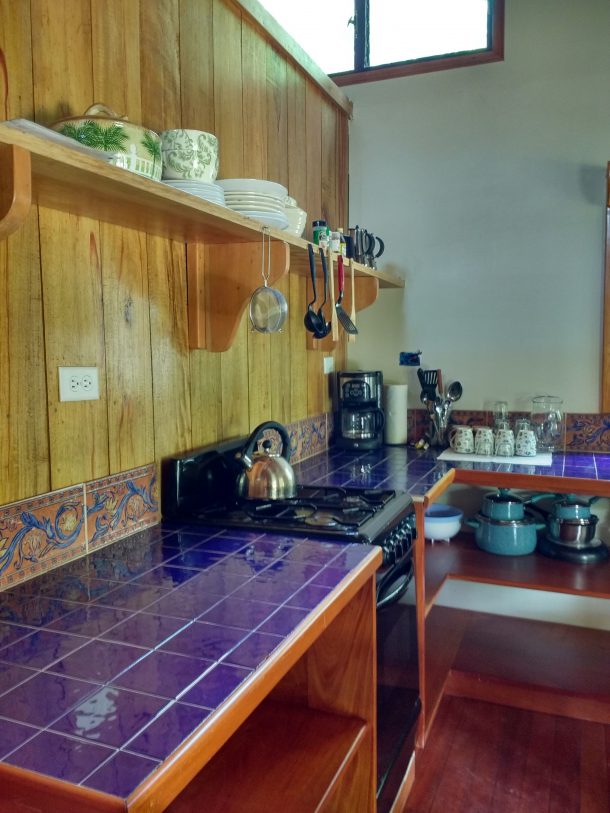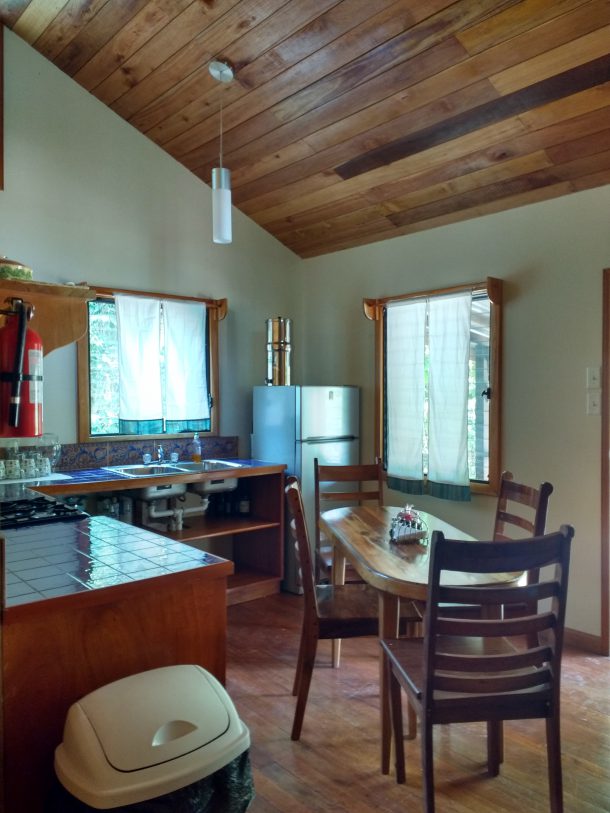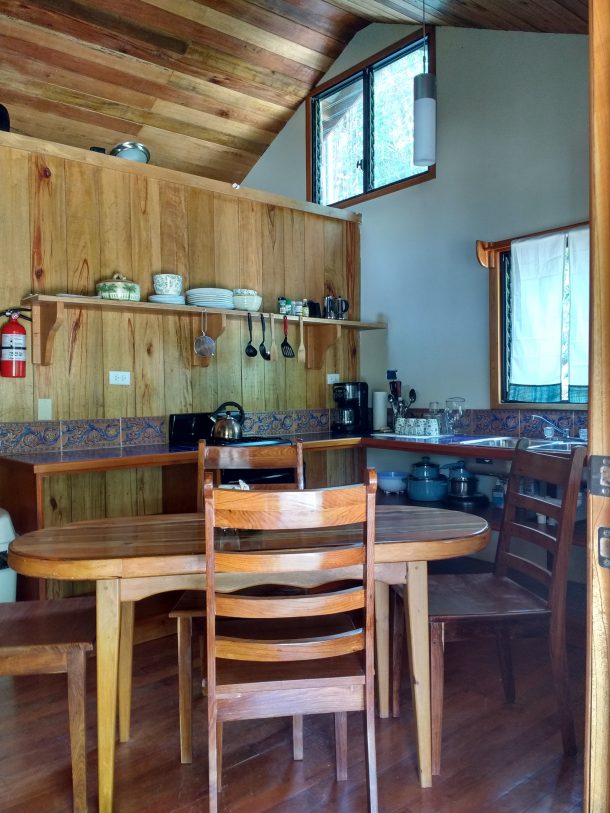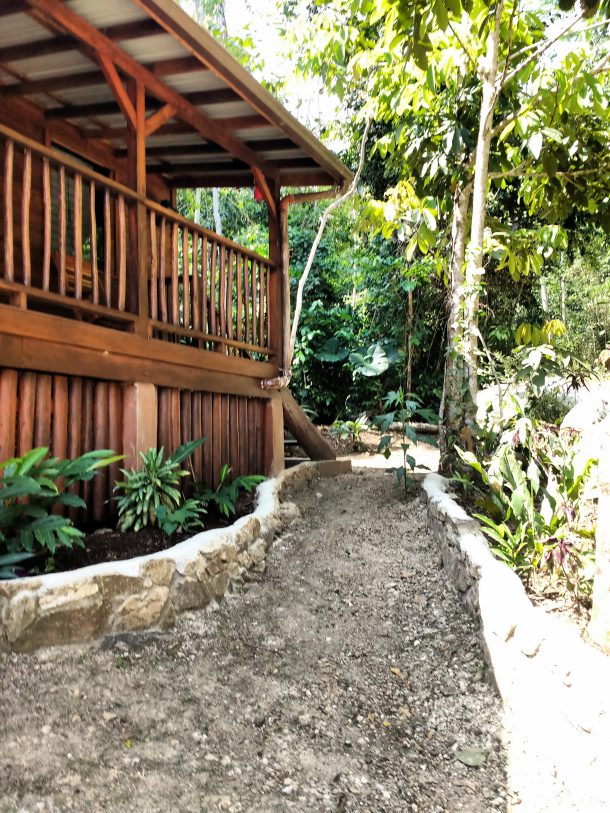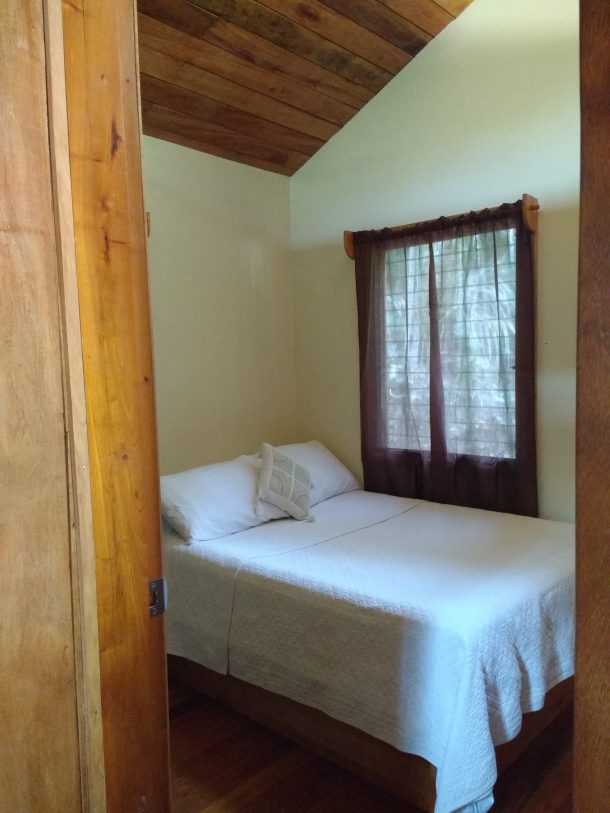 Cabin Features:
Warm and welcoming accommodation!
673 square feet of living space
Eco-friendly septic system
Accommodation for up to 6 guests
Two Double Beds, Two Single Beds
Linens, Bedding, Towels, etc.
Full Kitchen – Equipped (Gas Fridge, Gas Stove)
Large Deck
Location Features:
Close to Flutterby Finca, 3.5-acre Permaculture Community Gardens
One of the world's greatest natural history locations!
Dazzling views from Rainbow's Roost, our ridge top lookout (great for yoga & photo opps)!
Watersports on Vaca Lake!
Four exclusive waterfalls within a 5.5-mile stretch of Vaca Lake!
Raw jungle wilderness extending beyond our 130 acres!
Epic hiking trails and wildlife corridors!
Close to amenities and facilities in Benque Viejo del Carmen!
Home to hundreds of species of birds and many exotic orchid species!
Ecologically and culturally diverse location, close to the Mayan Ruins of Xunantunich!
Wonderful activities in our area include: Bird watching; Canoeing; Caving; Hiking; Horseback Riding; Kayaking; Mountain Biking; Mountain Trekking; River-Rafting; Swimming; Tree-Climbing; Tubing; Visits to Mayan Ruins and Waterfalls and Zip lining!
125+ Cool Attractions within 1.5 hours of Better in Belize!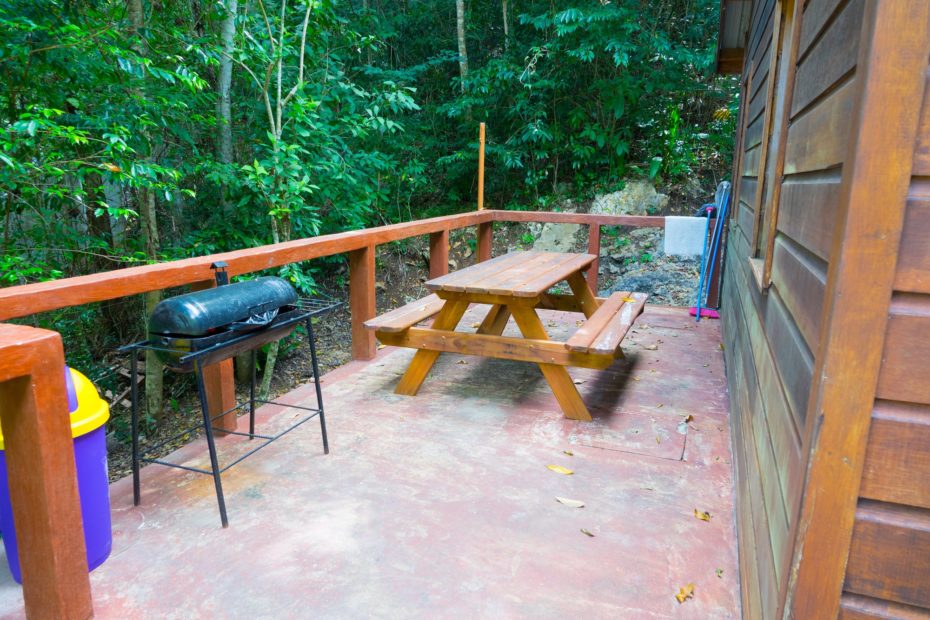 This is a perfect Belize vacation spot if you're into a super natural environment showcasing the pristine and awesome wonders of a tropical rainforest. Super vacation getaway for winter-worn snowbirds and the adventurous-at-heart! Everyone needs a little tropical rainforest time. Book your Belize vacation today!
Highlights:
If you're into outdoor activities, you'll be awestruck by the wealth of striking scenery in our neck of the woods. Our Belize rainforest is home to anteaters, armadillos, bats, Blue Morpho butterflies, coatimundis, gophers, hummingbirds, jaguars, kinkajous, monkeys, ocelots, opossums, otters, porcupines, raccoons, skunks, squirrels, tapirs, toucans (the fruit loop bird), weasels and wild parrots. The Howler Monkeys are particularly entertaining and they live in the rainforest canopy above "Tree Tops".
You'll marvel at the grandeur of the Maya Mountains sweeping down to the majestic Macal River valley. Climb our hills. Tour our rainforest. Follow the trails to the waterfalls. Discover Mayan mysteries. Head out for a riverboat tour. This inviting home is located in Better in Belize, a 130-acre community in Belize, just 10.5 miles from the Village of Benque Viejo del Carmen – which has all the amenities you need. Come stay in a really cool off-grid home in a land of adventure and magic – at Better in Belize.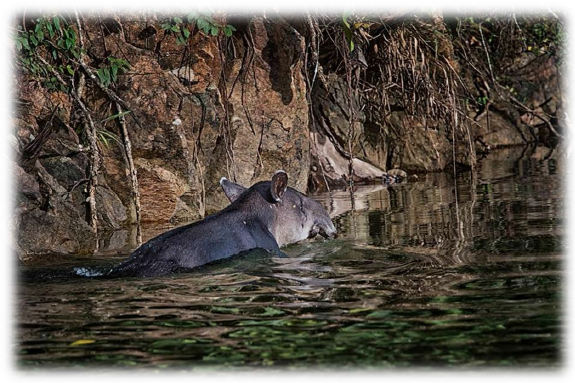 Towel Policy
As part of our conservation measures, we will provide one towel a day per person. You can hang and re-use your towels or request a clean one the next day. Towels are for indoor use only. Do not use or take outdoors. Thank you for your consideration and co-operation.
* Please note that there are no refunds for cancellations of bookings.

Tree Tops Cabin

FEATURES:

Accommodation Type

Suitability

Children Welcome
Non-Smoking Accommodation
Outdoor Smoking Only
Wheelchair Inaccessible

Bedrooms:

Contact us for vacancy and availability.

Bathrooms:

Leisure & Adventure Activities

Pontoon Boat Tours
Alternative Architecture on Site Including 2 Hobbit Homes!
Bird Watching
Cave Tours
Eco-Adventure Tours
Hiking
Horseback Riding next door
Locally made Cheese & Cashew Wine
Photography
Scenic Drives
Sight Seeing
Watersports
Wildlife Viewing

Dining

Eat-In Breakfast Area
Outdoor Dining on Side Patio
Front Porch a Perfect Perch for Morning Coffee!

General

High Speed Internet/Wi-Fi
Linens Provided
Parking
Towels Provided

Kitchen

Dishes & Utensils
Regular Kitchen Pots & Pans
Refrigerator
Gas Stove

Outside

House Cleaning

Important Notes – Please rent a 4-wheel drive vehicle as the road from Benque Viejo to Better in Belize is gravel. No Jeeps.

Like to find out more about this Belize vacation rental?
You can:
Fill out the form on this page.

Call us at 1-877-836-2756 (toll-free from North America).

Better in Belize on Vaca Lake
In a Tropical Forest, On Vibrant Vaca Lake
Along the Mighty Macal Waterway
Canada Home Office: 519-954-7244
Toll-free from North America: 1-877-836-2756
The information contained herein has been obtained from sources deemed reliable. While we have no reason to doubt its accuracy, we do not guarantee it and it is subject to change without notice.