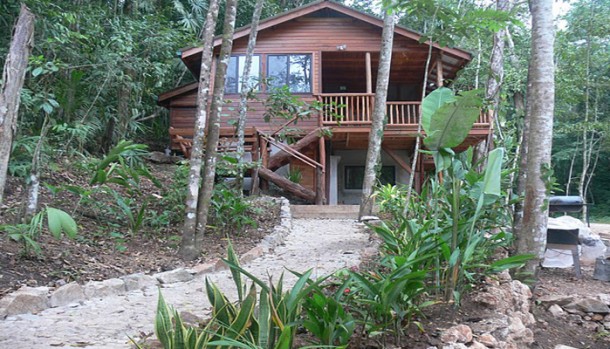 When a lot is prepared for building, it is important to take great care and to minimize the extent of clearing, working with the natural landscape rather than against it. We have eco building guidelines and covenants in force that all owners must adhere to when designing and building their homes – whether they are building on their own or through a local builder. For example, each residential lot owner is restricted to a building footprint of no more than 10% of the surface area of the lot. Our Ecological Advisory Board oversees and approves designs to ensure that the plan minimally affects the environment.
Here at Better in Belize, we continue to learn
Even in a community as small as Better in Belize, there is a diversity of building designs and homes – a testament to our owners and their home designers/builders. We have earthbag homes, tiny homes, geodesic dome homes, concrete homes, Bali-inspired homes, and we welcome more. Bring on your earth ships, tree houses, yurts, cob structures and so forth! We welcome and encourage the variety. New owners bring in their own insights as well. Our community continues to learn from one another and to figure out further ways to ease our footprint.
We source locally!
We encourage owners and their builders to source goods and services locally, first reaching out to the village of Benque Viejo del Carmen, 10 1/2 miles down the road from us. Whether it's cement, hardware materials, or exceptional craftsmen, Benque delivers! A large percentage of products and purchasing needs can be procured locally, in San Ignacio, Spanish Lookout and Belize City. Only when we've exhausted resources and options within Belize do we look beyond its borders. In doing so, we encourage everyone to consider the eco-friendlier options.
Belize is green
Let's keep it that way by building green in Belize. We're here to help and can refer you to local builders and experts in eco-friendly building in Belize.
Eco Home Designs
We welcome all designs that apply low-impact principles. We can refer you to local builders/designers; or you are welcome to submit your own design and contract a local builder.
Sustainable Features and Advantages
Not every design fits every building envelope or terrain. Some lots have better solar exposure than others. Some lots will support great gardens; others, better views and cross breezes. Some lots are closer to the heart of our community – our Community Gardens. Other lots are more remote and private. What's important to you? Click here to learn more about the Sustainable Features and Advantages that we enjoy in our Belize Ecovillage.