Greetings from warm and tropical Belize!

As dire weather warnings plague Europe, California, the Northeastern United States and parts of Canada today, we're enjoying a mostly sunny day of 85 degrees Fahrenheit/ 30 degrees Celsius. Kinda makes you think of pulling up stakes, doesn't it? If you're thinking about moving to Belize, we can assist you by providing insider info and even help you plan your trip to Belize (including a special tour of Better in Belize EcoVillage). Interested? Email us for more info.
Trip the Day Fantastic in Cayo! Mark your calendars for one of the coolest, wildest, craziest festivals in the world......right here in Belize! La Ruta Maya River Challenge 2018 runs from March 9th to 12th. There's still time to dip into your pool of friends to organize a team! Professional racers and amateur paddlers are welcome – this is a race for the whole family! Click here for further fun details!

If paddling in a grueling (albeit fun!) river race is not on your Bucket List, head for the hills or caves of Cayo! There's plenty of terrific tours in our neck-of-the-woods (including a FREE tour of Better in Belize EcoVillage!). Click on the link below to discover delightful day trips in Cayo.
Shop Local! Shop Fresh!
The Benque Farmers' Market features five permanent vendors - a meatshop, a clothing shop, an ice cream shop, a fruit & veg stall and a fast food stall. The Market is normally open from 8 a.m to 5 p.m. Benque Viejo del Carmen is the closest village to Better in Belize EcoVillage.

Basic necessities are available at our "local convenience store" just 2 miles down the road from us along Mollejon/Hydro Road.

Get your Vitamin C fix Naturally in Belize!
If you've just weathered the 'flu season in North America, you know that the importance of Vitamin C intake cannot be overestimated! Get your "Vitamin C fix" in Cayo. Bite into a Carambola, Craboo, Custard Apple, Coconut, Cacao, or Cashew Fruit. Click on the link below to cash in on the "C" in Cayo!
Lot #33 - Central Location
Take a peek at our Featured Lot. Wander with us down Toucan Trail to Mayan Circle Lot #33 in our Belize Eco-Village. This lot has lots (really!) to recommend it. Situated in a central location, just around the bend from our community gardens, Lot #33 is 0.42-acres in size. The driveway and clearing for the future house has already been carved into the lot. The excavation for the future cistern has been undertaken as well. Hillside trees include hardwoods such as bull hoof, acacia, copal, Ramon, and nargosta trees. List price: US$36,000. You can reserve this lot today with a US$500 (refundable) deposit.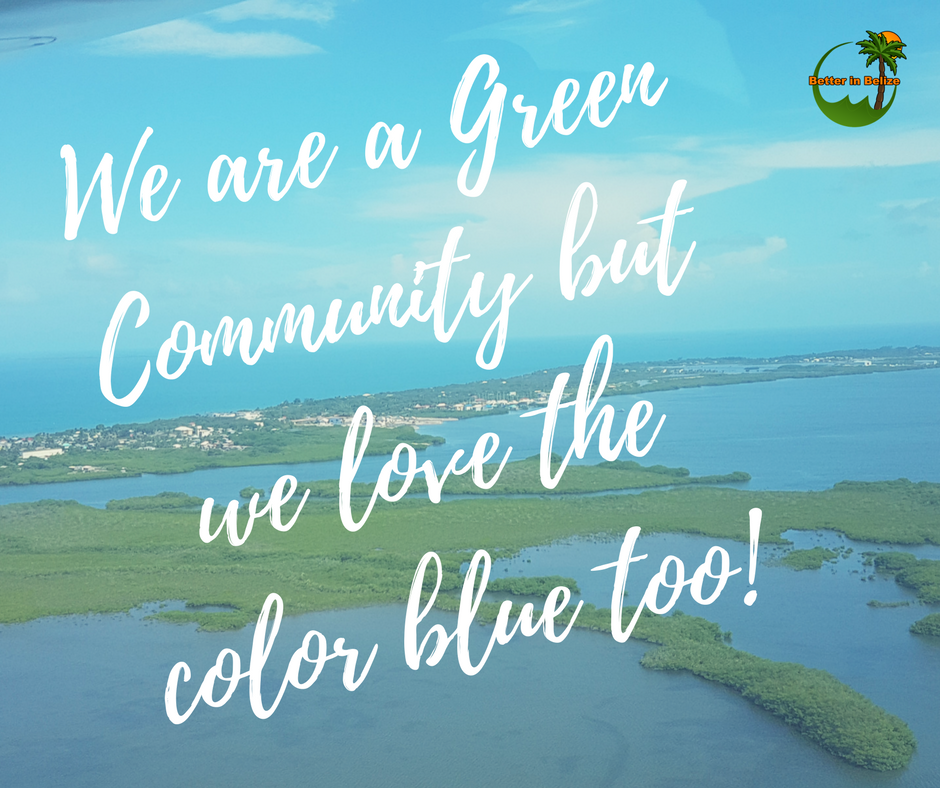 Hip, hip, hooray!! We're happy to be feelin' blue!
On December 29, 2017, Belize's House of Representatives passed the Petroleum Operations (Maritime Zone Moratorium) Act 2017. This act established an indefinite moratorium on the exploration for, and exploitation and extraction of petroleum within the 200-mile long Belize Barrier Reef Reserve System (BBRRS).

We're elated that so many creatures of infinite beauty and grace can now swim under the protection of this act.

The lagoons, estuaries, mangrove forests, coral reefs, sand cays, and offshore atolls in the BBRRS are home to an incredible array of marine life including gentle manatees, playful dolphins, graceful sea turtles, stoplight parrot fish, donkey dung cucumbers (truly!), goose barnacles, shamefaced crabs, upside-down jellyfish, giant decorator crabs, Christmas tree worms, ocean surgeon fish, seahorses, porgies, and puffers!

Did you know that you can have breakfast at our green community in the morning and be snorkeling in a blue lagoon in the afternoon? Ask us about the convenient Tropic Air flights from San Ignacio to San Pedro.