Cash in on our Belize Vacation Rentals Summer Sale!
"Summertime and the livin' is easy; the howler monkeys are swingin', and the hummingbirds fly by."
Make the most of your summer! Take advantage of wild discounts on our Belize vacation rental properties.

From climbing Mayan pyramids through to watersports on Vaca Lake, your Better in Belize vacation will be chock full of fun and exciting adventures. Or not. Maybe you just want to escape the madness, kick back, and sip a tall, cool Margarita? Take heart, we've got a hammock with your name on it!

With seasonal specials available at both our Belize vacation rental homes, we know how to take a great rainforest getaway and make it positively, absolutely awesome!
Get in touch to get the ball rolling!
"Tree Tops Guest House" - Affordable Belize Vacation Home for Rent
Rent Tree Tops, an affordable 3-bedroom Belize home in our magical rainforest eco-village in Belize! Save vacation rental booking fees - you can book this Belize vacation rental by calling us toll-free today at 1-877-836-2756. Nightly Summer Special from US$99/night.

"The Toucan House" - Super Deals on Room Rentals or Whole-House Rental!

Looking for a super affordable vacation rental in Belize? We've slashed our nightly room rates at The Toucan House, our 5-bedroom Belize Eco-Lodge from US$85 to US$49! Rent a room or rent the whole house! This Belize vacation rental can accommodate up to 11 guests - plenty of room for the whole family! Call April, our Guest Relations Manager, to book the best vacation rental in Belize! Toll-free from North America: 1-877-836-2756.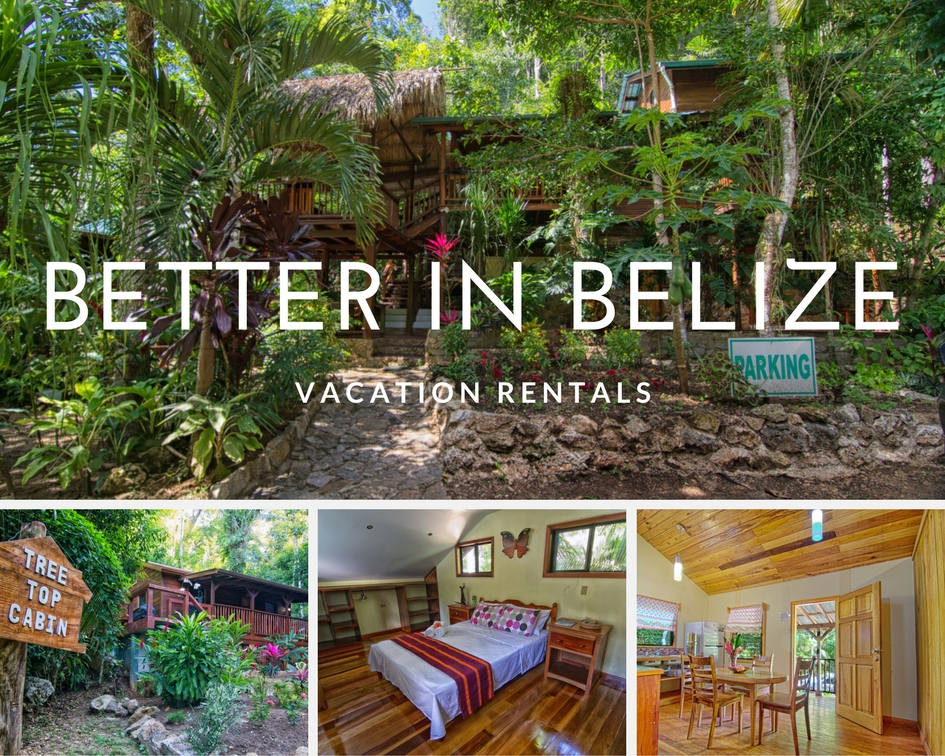 Rave reviews from our guests!
"Wonderful Time! We really enjoyed the Toucan House and Jungle Splash Eco Tours. Robert and Nadir were excellent guides and really made us feel comfortable and at ease. Robert's knowledge of that area is beyond impressive. I would recommend staying at the Toucan House and going on any of Robert's excursions. It was the best!" Miles H.
"This is an off the beaten path very nice cabin. If you want to be in the jungle taking in the natural sounds, this is the place for you. There are local activities jungle splash tour, local cave tours, lookout point that are must does. Stop at the store at the beginning of mollejon for essentials. There is a store closer to home for meats and drinks etc. I will definitely be back. April was very pleasant and I would recommend this place to all outdoor enthusiast novice or expert." George S.