Tweets
(the ones that sound like pleasant birdsong)
from our Belize eco-village!
Construction continues to rock with:
25 finished homes!
1 finished HOA office!
3 homes under construction!
We now have almost 20 full/half time residents and a revolving door of vacationing residents and their friends and families!
Better in Belize now has a defibrillator for the community and there is talk about getting a second one. Thanks to owners, Dr. Anello and his wife, Mari, a nurse, for the training they provided. Could be a lifesaver!
Architectural plans are being finalized and submitted for the construction of the Community Center. They need to get the seal of approval from the Central Building Authority before opening up bids for construction. Upon selecting the bid, construction will commence. Hooray!
Roads within the community had some interim work done and are in pretty good shape. A major road project including engineering for drainage is planned in the next year.
The garden is producing a lot of bananas and avocados currently. The Garden Committee is focusing on perennial fruit and nut trees and plants for sustainability. The committee will be purchasing some short variety coconut palms to plant soon.
A group of Better in Belize residents have started a new tradition with a nighttime float in a pontoon boat along Vaca Lake. Add this to your Bucket List! Stargaze in what astronomers call "the darkest skies in the world". Enjoy moonshine in the jungle! No hangover the next day!
If you'd like to book your visit to our magical Belize rainforest community, get in touch with us!
Better in Belize EcoVillage
In The Beginning: 128 Lots Available for Sale
Today: Only 15 lots remaining for sale!
(in case you're counting, that's one less than the last time you read this newsletter)
Buy now! Build later!
You can
reserve a lot
with a US$500 refundable deposit.
We offer a simple and transparent reservation and purchasing process.
Join our owners from around the world and discover why it's Better in Belize!
Get in touch!
Toll-free from North America: 1-877-836-2756
From Anywhere Else on the Planet: 519-742-2564
Email us
to take the first step.
See why September Rocks in Belize....and why YOU should be here!
September is a great time to visit Belize – especially if you're into Jump-ups! Yep, Jump-ups! The infectious street parties of Belize that make you just want to jump up and celebrate the month-long parties of September in Belize! September 21
st
marks Independence Day and if you want to see a party, stick around and join in on the fun on the 21
st
! Fall is "shoulder season" in Belize – that bridge between summer and high season where hotel prices are discounted and no one is gonna duke you out for that hotel beach lounger.
You'll want to check out the cool things happening in Cayo in our
"September in Belize"
blog post.
We offer
discounted rates at The Toucan House
, our lovely 5-bedroom eco-lodge, and
discounted rates at Tree Tops
, our 3-bedroom cabin, throughout September.
Reserve
your getaway today!
Scenic 1.09-acre property for sale in off-grid community in Belize!

Price: $38,000 USD

Want to know how you can reserve this stunning Belize rainforest lot for sale with a US$500 refundable deposit? Ask us!

Don't waste another minute – hemming and hawing and wondering whether you should or shouldn't contact us. It won't cost you a penny to get in touch with us. You won't encounter any high-pressure sales. Our Belize real estate team is pleasant and customer service-oriented. We'll explain our simple and transparent reservation and purchasing process and answer your questions about this picturesque 1.09-acre lot located in a spectacular Belize eco-village in an area that has been called "the Swiss Alps of Belize" – known as the Maya Mountains. You can give us a shout on our dime at 1-877-836-2756.

Lot #3 is situated in a perfect position along the flat, scenic entrance to Better In Belize EcoVillage on Toucan Trail, a leafy road nestled under the rainforest canopy. Truly breath-taking surroundings in the Belize rainforest! Toucans – those exotic birds on Fruit Loop cereal boxes – sometimes roost and feed in the rainforest canopy above Toucan Trail. They are one of the many species of Belize birds that you will spot while birdwatching in our Belize eco-community.

If you'd like to see more photos of this exquisite rainforest lot in Belize or find out how you can get a fresh start in Belize, call us today, toll-free from North America at 1-877-836-2756.
We can hardly contain ourselves!

Heavy metal has arrived at Better in Belize! No, it's not Iron Maiden or Metallica, but it is
"Casa Metallica"
!
At Better in Belize, alternative architecture is the name of the game.........and we're delighted to announce that owners from Louisiana are building the first Better in Belize container home. And with characteristic Louisiana spirit, they've named their metal abode "Casa Metallica".
Owners of Lot 47, Linda and Doug, brought us in the loop "The shipping containers will rest on top of steel plates that are welded to the tops of the columns. In total, we will have 8, 20 ft. containers. 6 will be for the house, 1 is for our cistern, which will have water bladders for rainwater collection. The last one will be our solar battery bank and storage. We have 5 of the 8 containers already, but we are still trying to find the last 3. When they get delivered, we will have a 150ft. boom crane to set them in place. The house will have 3 BR/1bath, kitchen, and living room."
If you'd like to follow in the footsteps of Doug and Linda and build a container home at Better in Belize, the suitable lots would be the
Mayan Circle Lot #33
and
Lot #48
and
Lot #49
. Lot 33, a 0.42-acre lot listed at US$36,000, has a great central location with some excavation already done on this lot. Lot 48 is a 0.72-acre lot listed at US$75,000. Lot 49 is a 1.04-acre lot listed at US$75,000. Both lots are designated as commercial lots, but could also be used for multi-unit construction (up to 6 individual units) or for individual residential use. You can reserve any of these lots with a US$500 refundable deposit.
Get in touch with us
for more info!
Wish Willy Cabanas
Santa Elena, Cayo
Affordable Rooms
Wish Willy's Cabanas in Santa Elena is a great place to stay in Cayo (before or after you visit Better in Belize, of course)! Book their
Riverfront Cabana #1 for your own private balcony. Great rates and awesome hosts!!

Check out their Website!
Email:
[email protected]
Address: #64 George Price Avenue
Santa Elena, Cayo, Belize
Tele: 501-608-9988
Who needs a 7-Eleven in the neighborhood when you have
The Moh Family Mom-and-Pop Shop?
When hunger pangs hit, head out to Tienda El Campesino, a small "convenience store" 2 miles from Better in Belize. Operated as a mom-and-pop shop by Senor Nicolas Moh and his wife, Anita, their tienda is a handy place for visitors and residents to scoop booze and vittles. They sell basic groceries such as liquor, beer, soft drinks, cheese, cooking oil, eggs, bread, rice, sausages, and salsa casera. Convenient stop-off en route to our Belize eco-village if you forgot to pick up beer at Daisy's grocery store in Benque!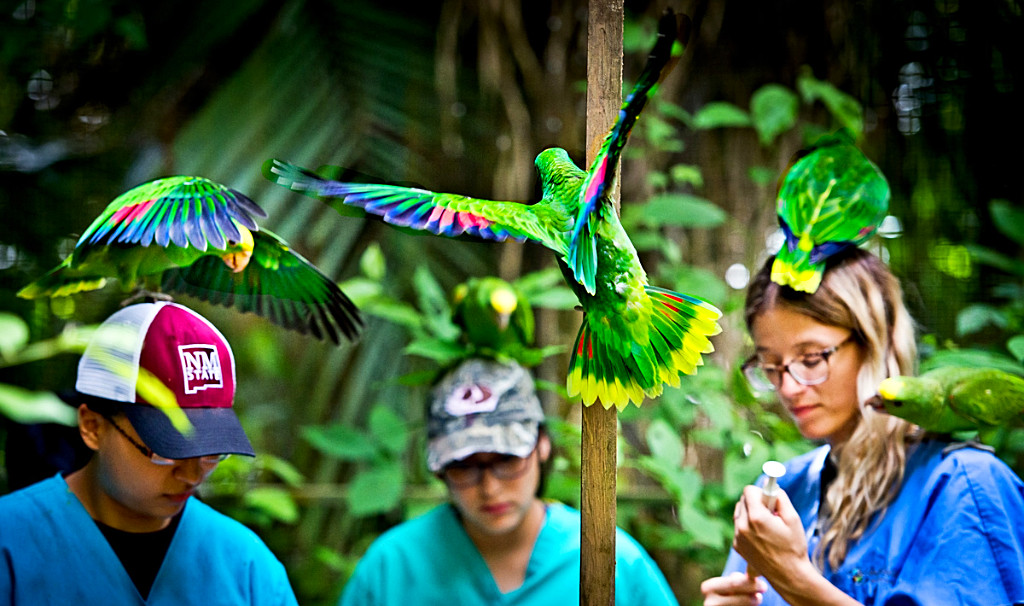 Help keep Belize Bird Rescue up and running!

This Belize avian rescue and rehab centre takes in 250+ orphaned, injured, and sick birds annually! ! They've been doing this for 13 years. Do the math and you will swiftly understand the immeasurable contribution they have made to Belize's avian world! They need our help. A US$10 donation feeds 26 parrots for one day. 20 bucks buys 1 lb. of low-iron toucan food. 30 bucks keeps the lights on for 3 days. Donate once or donate monthly. Click the Global Giving website to make your donation to Belize Bird Rescue now:
https://tinyurl.com/yd8o3dfv
. Hear that birdsong? It's a tweet of gratitude from the birds of Belize!

Photo credits:
BelizeBirdRescue.com
.