INGREDIENTS
1 cup Bulgur (cracked wheat) or Quinoa
1 Lemon
1/4-cup Olive Oil
1 Clove Diced Garlic
10-12 Finely Chopped Mint Leaves (stems removed; washed and well-dried)
1 Cup Finely Chopped Parsley (stems removed; washed and well-dried)
4 Firm Roma Tomatoes (diced)
1 English Cucumber (chopped finely)
4 Green Onions (chopped very finely)
Feta Cheese (crumbled) – to taste
Salt & Pepper
Black Olives – Optional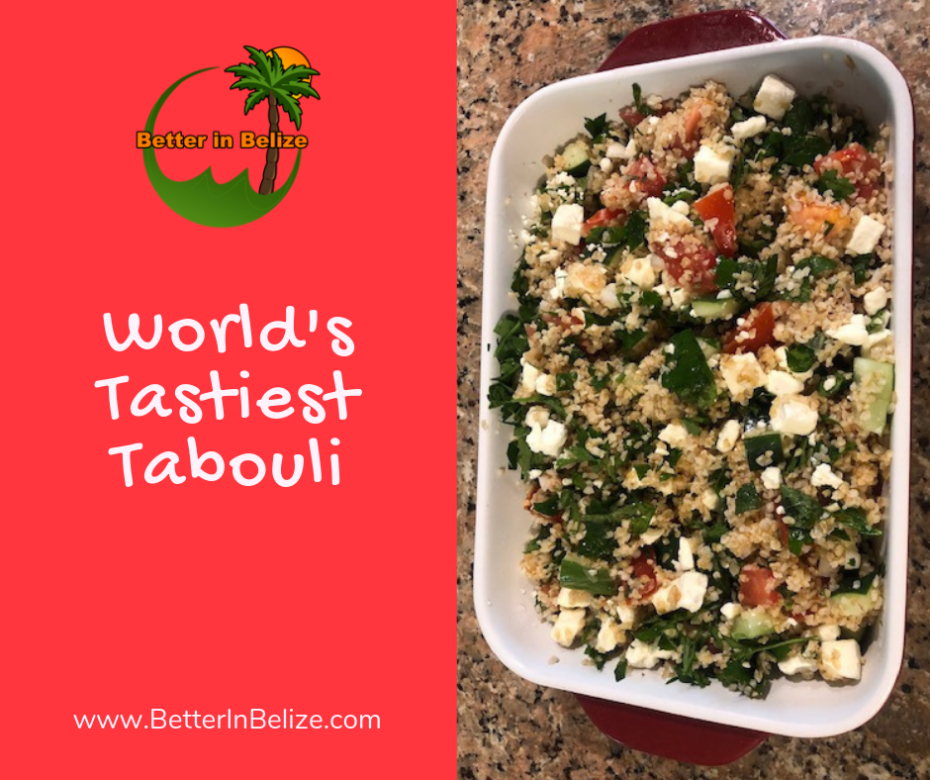 INSTRUCTIONS:
Dressing:
Mix 3 TBSP (the juice of 1 Lemon) lemon juice with the olive oil and garlic.
Main Dish:
Prepare the Bulgur or Quinoa according to package directions. Extra fine bulgur wheat is recommended.
Once the tomatoes are diced, place in a colander to drain the extra liquid.
Place the tomatoes, cucumbers, green onions, feta cheese, parsley, and mint leaves in a medium mixing bowl.
Add the bulgur once it cools.
Season with salt and pepper to taste.
Add the dressing.
Mix together.
Refrigerate.

Tips:
Chop the vegetables super finely.
If your guests don't devour this delicious Mediterranean salad, you can keep it in an air-tight container in the refrigerator for a couple of days.
Drain juice before refrigerating leftover tabouli.